Operation Christmas Child's National Collection Week
November 14-21, 2022
For 2022 – House of the Lord Fellowship is again an official OCC Drop-Off Site for shoeboxes for Operation Christmas Child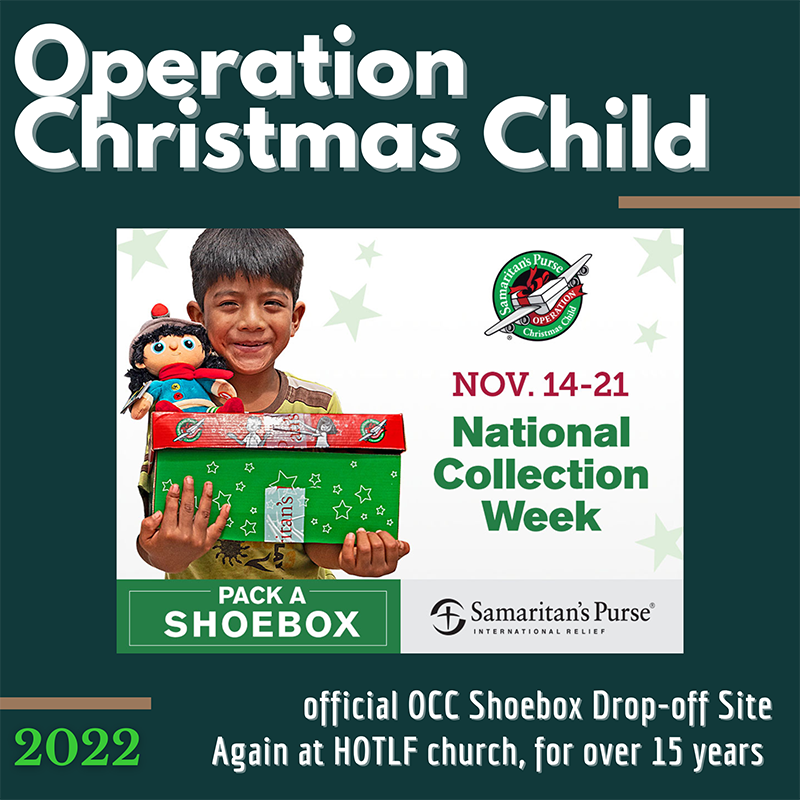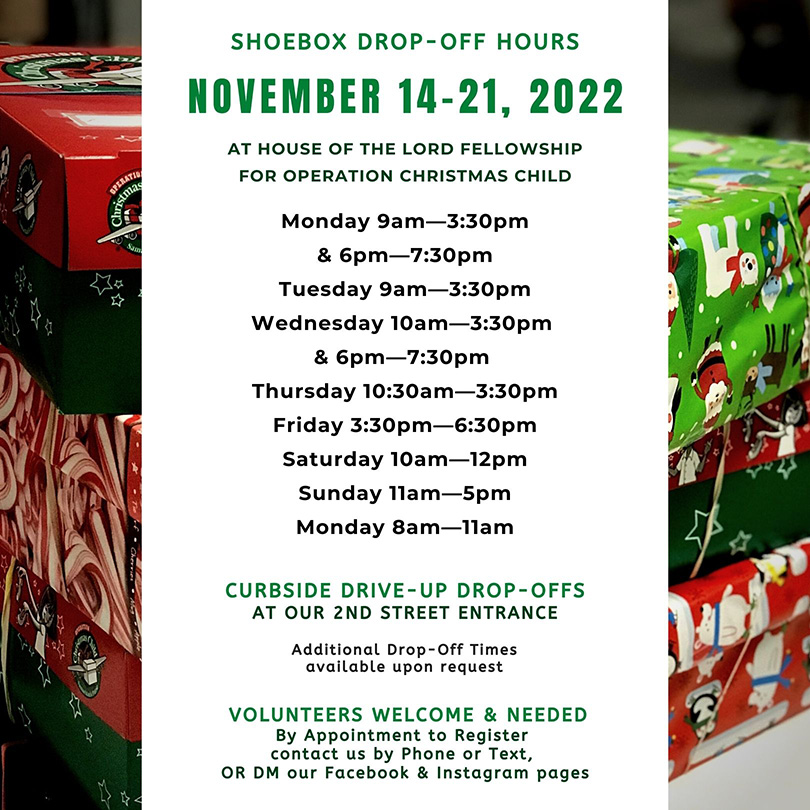 Samaritan's Purse continues to share the eternal hope of the Gospel through the amazing Operation Christmas Child project of shoebox gifts for children around the world in need. Almost 4,000 locations are open during National Collection Week the 3rd week of every November across across the U.S., including locally with us at House of the Lord Fellowship church, Lock Haven, Pennsylvania
House of the Lord Fellowship
201 West Main Street, Lock Haven, PA 17745
**We will are using our 2nd Street entrance of our building for easier Curbside-drop-offs instead of our parking lot. Signs will be visible to easily direct people for drop-offs. Our Volunteers will be outside waiting to assist.
OCC Contact Info
Phone # 570-748-6455        
Web: www.houseofthelordfellowship.org
Email: ssnyder@houseofthelordfellowship.org
Instagram @HOTLFchurch   
Facebook Page @HouseofthelordFellowship
Lock Haven's OCC Area Coordinator: Sarah Snyder
We are excited to be involved in our community with Operation Christmas Child project. We invite you to participate with us and help bring joy to children in need all over the world.
WHAT IS OPERATION CHRISTMAS CHILD?
Operation Christmas Child, a project of the international relief organization Samaritan's Purse, collects in the U.S and worldwide shoebox gifts filled with school supplies, hygiene items, and fun toys – and delivers them to children in need around the world. For many of these children, the gift filled shoebox is the first gift they have ever received.
WHEN IS 2022 NATIONAL COLLECTION WEEK?
Operation Christmas holds a National Collection Week the third week of every November. Nearly 5,000 OCC drop-off locations in the U.S.A will be open to receive shoebox gifts this National Collection Week November 14-21, 2022 including our site at HOTLF. And then after, trucks will transport the precious cargo to 8 different processing centers.
2022 WHAT TO EXPECT AT LOCAL DROP-OFF SITES?
Most sites including ours now have available have Curbside Drop-Offs and electronic forms. When you arrive at our drop-off location, just follow the signs for curbside drop-offs. Volunteers will greet you and direct you in the parking street area to park and where we can help you unload shoeboxes onto waiting carts and tables. Volunteers will also present you with an easy touchless way to leave your contact info and the number of shoeboxes that you are dropping off. Or they can fill out an electronic form for you. We can't wait to see you!
OPERATION CHRISTMAS CHILD STATISTICS
In 2021, Operation Christmas Child, the world's largest Christmas Child project of its kind, collected more than 10.5 million shoebox gifts for children in over 100 countries. Since 1993, more than 198 million children in more than 170 countries and territories have received an Operation Christmas Child shoebox. The project delivers not only the joy of what, for many kids, is their first gift ever, but also gives them a tangible expression of God's love. Operation Christmas Child along with the help of thousands volunteers and Samaritan's Purse – send all these wonderful shoebox gifts across the world to children in need and affected by war, poverty, natural disaster, famine and disease; and children living on Native American reservations and natural disaster impacted areas.
LOCAL DROP-OFF INFO – at HOTLF Church OCC Site
The House of the Lord Fellowship church in Lock Haven is an official OCC Drop-Off Site for shoebox gifts and has partnered for more than 15 years with Operation Christmas Child and Samaritan's Purse. OCC supplies and more information are available year round upon request.
In 2021 = our HOTLF church's Drop-off Site collected 2,347 shoeboxes (over 10,000 regionally, including State College PA). Our amazing volunteers carefully collected these shoeboxes in the cold snowy weather, then carefully packed all shoebox donations into 164 special OCC cartons, and readied them for transport to the large OCC Processing Plant in North Carolina. Special thanks to our wonderful donors both local and some from far away, our amazing crew of volunteers, and to Advantage Sales for truck transport assistance. We can't wait for 2022 Collection Week!
HOTLF's OCC Site's Shoebox Collection Totals:
2020 = 2,580 shoeboxes (region over 10,000)
2019 = 3,365 (region 15,049)
2018 = 1,982 (over 12,000)
2017 = 2,122 (13,471)
2016 = 2,347 (16,212)
2015 = 1,645 (14,872)
HOW CAN PEOPLE DONATE A SHOEBOX GIFT?
Every shoebox gift is designed to be unique.
1) Find a Shoebox – You can do this by starting with any average-sized cardboard shoebox or plastic shoebox. Can giftwrap or even decorate your shoebox, just please remember not to giftwrap the lid closed. Rubber bands are fine but not necessary.
2) Boy or Girl – Decide whether you will pack a box for a girl or a boy, and an age category: 2–4, 5–9, or 10–14.
3) Fill Box with items – Select a medium to large "wow" item such as a soccer ball with pump or stuffed animal, then fill with other new items like fun toys, hygiene items, school supplies. Due to certain shipping restrictions, please no toothpaste or candy.
4) Pray – Most importantly, please pray for the child who will receive your gift.
You could also include a personal note, photo, and some contact info (emails are great).
5) Shipping & Follow Your Box Labels – To help defer rising shipping/transport costs, you can make a suggested $10 donation of cash or check inside the top of your shoebox. Or donate $10 online and receive a printable label to Follow Your Box and discover the destination of your shoebox. Just print and attach that tracking label to the outside lid of your shoebox. The same tracking barcode label can be used for multiple shoebox gifts (try not to place tape over tracking barcode) and you will receive a notification of the countries destinations to your email.
We also have new pre-printed, scannable barcodes (even as a large batch) that you can easily pre-activate and attach to your shoeboxes. Now available through our church, their website and also stores like Hobby Lobby.
Online Shoebox – If unable to donate a shoebox in-person, you can also use online option of Build a Box Online.
To learn more about how to pack a shoebox gift, gift suggestions, and updates, and to Follow Your Box label, visit website samaritanspurse.org/occ and APP samaritanspurse.org/occ-mobile-app.